MEF4CAP Interactive Reflection Workshop – 30 March 2023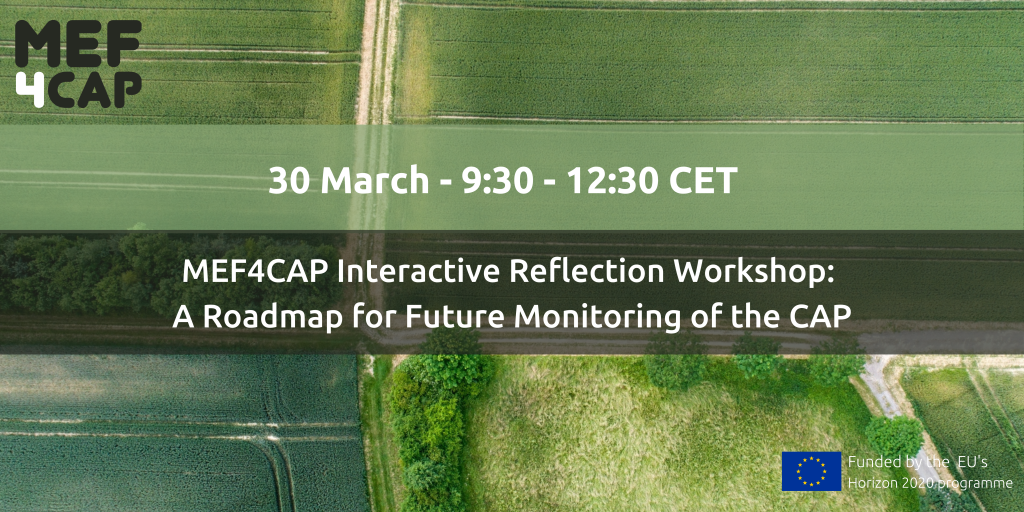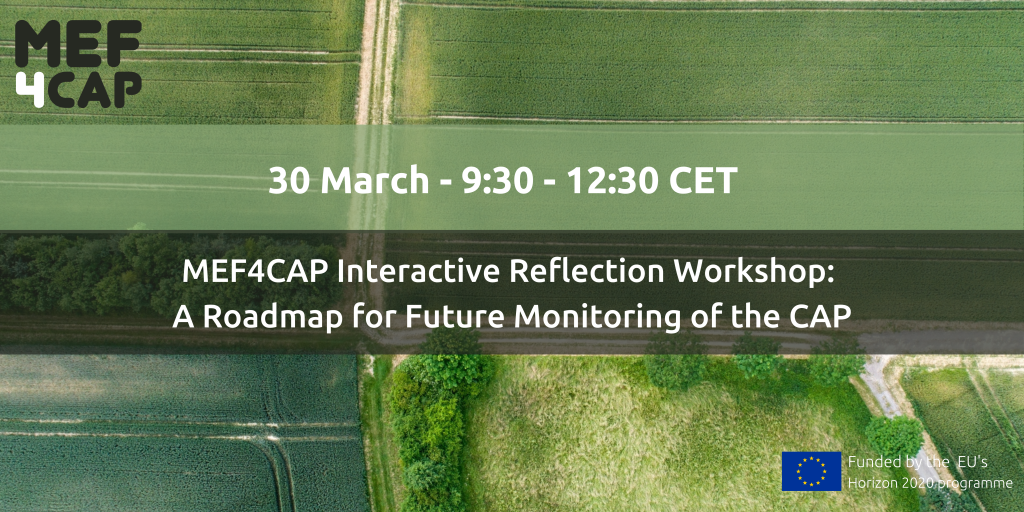 We are pleased to invite you to our interactive reflection workshop "A Roadmap for Future Monitoring of the CAP", which will take place on 30 March from 9:30 - 12:30 CET in-person, at Rue des Deux Eglises 14-16, Brussels, and online. Please note that in-person attendance is limited and will be granted on a first-come, first-served basis.
The workshop is organised in the framework of the MEF4CAP project, looking to harness the benefits of technology in connection to the new data needs which are prompted by the reform of the Common Agricultural Policy, Green Deal, Farm to Fork and Biodiversity Strategy. The ambition is to minimise costs and administrative burdens, optimise the value of the data collected, and ensure the potential of different approaches are fully exploited, all whilst ensuring that the needs of different stakeholders are met.
During the workshop, MEF4CAP partners will present the outcomes of the demonstration cases and invite participants to reflect on the preliminary lessons learned from the project, which will be used to develop a roadmap for the future monitoring and evaluation of the CAP. We look forward to welcoming you at the workshop!
Agenda
Time

Content

Speaker(s)

09h30 - 09h40

- Welcome & presentation of MEF4CAP project.

-  Marcel Van Asseldonk (WUR, NL)

Part I: Presentations

09h40 – 10h10

Presentation Demo Case 1: Use of digital information flows in the agri-food sector

- The Netherlands

- Ireland

- Poland




- Krijn Poppe (WUR, NL)

- Trevor Donnellan and Emma Dillon (Taegasc, IE)

- Zbigniew Floriańczyk (Institute of Agricultural and Food Economics, IAFRE- NRI, PL)

10h10- 10h30

Presentation Demo Case 2: Integrating open-source satellite data with farm level data

- Greece

- Spain

- Nikos Kalatzis (Neuropublic, GR)
- Pablo Fernadez (Cooperativas agro-alimentarias, SP)

10h30 – 10h40

Presentation Demo Case 3: Linking national datasets for a broader use in policy evaluation

- The Netherlands

- Daoud Urdu (WUR, NL)

10h40 -10h50

Presentation Demo Case 4: New ways for monitoring agri-environmental measures

- Spain

- Pablo Fernandez (Cooperativas agro-alimentariasc, ES)

10h50 -11h05

Break

11h05 -11h15

Presentation on a generic framework for EU roadmap(s)

- Tomaso Ceccarelli (WUR, NL)

Part II: Interactive Session

11h15 -12h15

Interactive session on the framework presented, gaps, and steps ahead

Three parts, each with Mentimeter questions:

- Barriers and actions to overcome them

- Drivers/incentives

- Takeaways from this meeting to implement in the roadmaps

- Tomaso Ceccarelli and Rob Lokers (WUR, NL)

12h15 -12h30

Wrap-up and closing remarks

Tomaso Ceccarelli and Marcel Van Asseldonk (WUR, NL)

12h30

End